July 14, 2014
Mix up your favorite cocktail, and get ready to take a ride with the GlamourMetal gals - Angel Quintana, Christine Bové and Crista Grasso as they explore personal branding in Glamour + Metal - The NYC Story.

Personal branding is just the beginning to YOUR success! It is how you present yourself to the world, your reputation, personal style, how you choose to show up every day in life, and how abundance is attracted into your life.

You won't want to miss it!

Watch Now:



What is Glamour+Metal?

A GlamourMetal girl is a think-for-yourself kinda woman who thinks copycatting is so last season. She embraces her rebellious nature in her personal style and in business. With her quick wit and go-getter attitude, this over-achiever is a trendsetter at heart. The GlamourMetal girl is ready to show the world exactly who she is no matter what it takes to embrace her individuality.

How GlamourMetal are You?

Take the quiz before the premier to find out, and be entered to win some FAB PRIZES from Holistic Fashionista, Christine Bove Feng Shui and Go Nearly Naked.




Want to know more about the GlamourMetal Gals?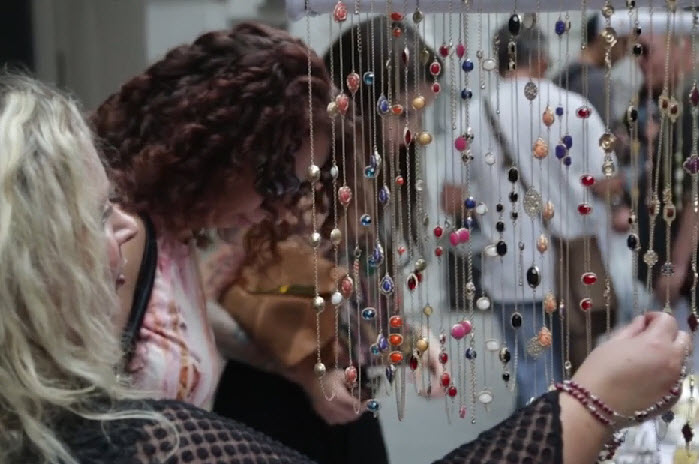 Crista Grasso
is the 
Founder and CEO of Go Nearly Naked
™, a luxury boudoir jewelry™ brand for adventurous uninhibited women, and the men who can't live without them.  From simply sexy to daringly dramatic, her original handmade-in-the-USA jewelry line is designed to help a woman showcase her individuality and feel beautiful, sensual, and completely irresistible as soon as she slips it on. Crista is also the Editor-in-Chief and Publisher of Nearly Naked Magazine, a digital fashion and lifestyle publication for women who are ready to live life on their own terms and do it in style. Learn more & shop the boudoir jewelry™ collection at 

http://gonearlynaked.com

.
Angel Quintana 
is the 
Founder/CEO of Holistic Fashionista
™
, 

home of the business trendsetter lifestyle magazine and The Willow House of Design. She works with rebels, tastemakers, and visionaries who are ready to ditch the copycat syndrome, play by their own rules, and curate a sustainable, and profitable brand. The former fashion designer, holistic health practitioner, + branding guru discovered how to uniquely blend all her talents into one impeccable brand, which she later crafted into an innovative coaching program called Signature System. Today Angel shows business pioneers how to curate a cool brand using what they already have in their personal toolbox. Learn more at 
www.HolisticFashionista.com
.
Christine Bove is a 
Lifestyle Makeover Artist and Feng Shui Expert
 who inspires women to allow creative energies to flow into their environments and mindsets to improve their confidence, bring clarity to their future and set them up for success. Christine is a frequent guest on various national and international radio and internet programs. Christine is a contributing writer for Nearly Naked Magazine and a co-author of the book, Balance for Busy Moms. To learn more about Christine and her lifestyle makeover programs, visit 

www.christinebove.com

.
---
Follow us on Bloglovin:
Follow Us on Bloglovin
---
---
---